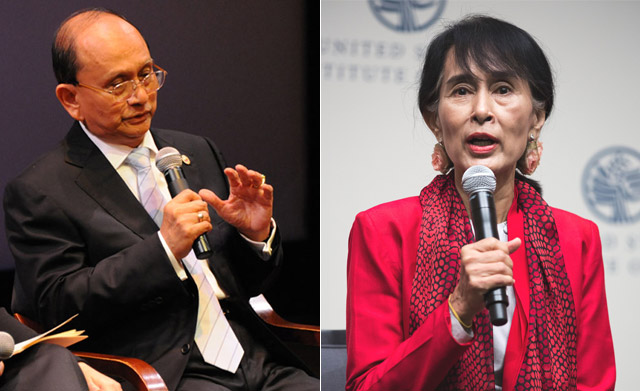 Myanmar president Thein Sein (L) and legislator Aung San Suu Kyi (R) speaking at Asia Society events in 2012. Aung San Suu Kyi was last year's winner of our reader poll for Asia's Person of the Year — will her countryman take her spot this year? (Kenji Takigami/Joshua Roberts)
Who grabbed the headlines in Asia in 2012? What Asia-related people made waves? Who, for better or worse, had the biggest impact during the past calendar year?
We want you to tell us — please vote below in 2012's version of our (unscientific and unofficial) reader poll for Asia's Person of the Year.
For 2012 we have selected 12 nominees from all walks of life, and you can read their descriptions below. Now, we are well aware that Asia is a huge place, filled with billions of people. Undoubtedly many deserving names failed to make this list (including newly anointed leaders like Xi Jinping, Shinzo Abe and Park Geun-hye — we figured we'd check back in on them next December).
This is why you are welcome to write-in your own candidates, as well. We encourage you to do so.
Last year's runaway winner, Aung San Suu Kyi, is nominated once again this year. Can she repeat? It's up to you. Place your vote!
Aung San Suu Kyi (Myanmar)
Bo Xilai (China)
Chen Guangcheng (China)
Aamir Khan (India)
Imran Khan (Pakistan)
Kim Jong Un (North Korea)
Jeremy Lin (United States)
Mo Yan (China)
Psy (South Korea)
Vinod Rai (India)
Thein Sein (Myanmar)
Malala Yousafzai (Pakistan)